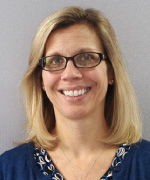 In 1988 Dr. Marchand-Mateyak graduated from Oakland University with a Bachelor of Science Degree. She graduated from Wayne State University School of Medicine in Detroit, Michigan in 1992. She completed her Residency at Children's Hospital of Michigan in 1995, and was Chief Resident in 1996.
Dr. Marchand-Mateyak is a Board Certified fellow in the American Academy of Pediatrics.
Dr. Marchand-Mateyak is married to Bruce and has two children, Christopher and Jennifer. She enjoys her family and year-round outdoor recreation and sports.
She enjoys Pediatric Medicine, especially since much of what we do each day is reassure families that they do have healthy infants, children and teens. Dr. Marchand-Mateyak believes it is important to educate patients and parents about accident, injury and illness prevention. She emphasizes that healthy habits and lifestyle are learned behaviors, that we as parents model and shape our children as they grow from infants to toddlers to school age so they will have a healthy foundation for the challenges they face as teens.