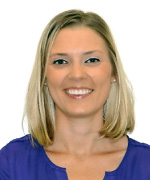 Dr. Denysenko grew up in Sterling Heights. She attended the University of Michigan for her undergraduate training and attended medical school at the Michigan State University College of Osteopathic Medicine. In 2015 she completed her pediatric residency at St. John Providence Children's Hospital in Detroit. She was the Chief Resident during her final year and was the recipient of many resident awards.
Dr. Denysenko is board certified in Pediatrics, a Member of the American Academy of Pediatrics and is on staff at St. John Hospital & Medical Center and Beaumont Grosse Pointe.
Dr. Denysenko is married and enjoys spending time with her family and friends, especially Up North Michigan.